Conventional Oil Change
The standard oil used with the lowest cost. Best for vehicles that are not subject to severe driving conditions. It is recommended to change conventional oil every 3,000 miles.
Starting at
$29.95
Includes:
Oil change using conventional oil
OEM filter
Synthetic Blend Oil Change
Starting at
$44.95
Includes:
Oil change using synthetic blend oil
OEM filter
Fully Synthetic Oil Change
Specifically formulated to offer the highest levels of protection and performance. It is recommended to change synthetic oil every 5,000 miles.
Starting at
$69.95
Includes:
Oil change using premium oil
Highmileage inspection
OEM filter
Checking the Fluids in Your Vehicle
If you're confident under the hood, you can feel free to check your own fluids periodically. This is a great way to keep a closer eye on the health of your vehicle and know whether or not it's time to schedule your next service appointment at Maxon Mazda in Union, NJ. No matter which fluids you're looking at, always make sure you're parked on level ground and the engine has had time to cool before going under the hood.
Engine Oil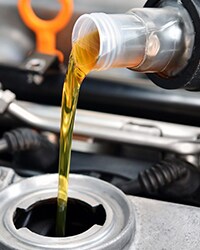 If you're engine oil light is already on, avoid driving your vehicle and have it towed to our Mazda Service center in Union, NJ immediately.
Ensure your engine has cooled and locate the dipstick, typically located near the front of the engine.
Wipe the dipstick clean using a dry cloth and replace it, ensuring it is fully inserted.
Remove the dipstick again, and inspect the far end of it to determine your oil level. There should be a set of marks on the stick that indicate high and low oil levels, and you want your oil to sit somewhere in the middle.
Note the color of your engine oil. If it is dark or black, it's time for an oil change. If it appears milky brown, you likely have coolant or water in your engine which indicates a serious issue.
Brake Fluid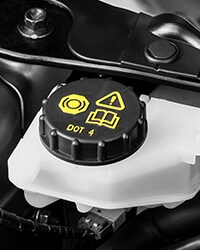 Your brake fluid is housed in a large plastic reservoir, usually near the rear of the engine bay. Your owner's manual can give you a more specific location. Most reservoirs allow you to check your brake fluid level without removing the cap. If you are low on brake fluid, schedule your service immediately as you are likely experiencing a leak somewhere in your braking system.
Coolant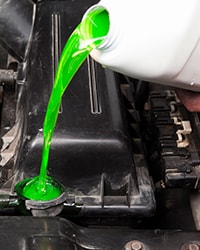 Do not check coolant if your engine is not fully cooled. 
A low coolant level when the engine is cold means it is time to have your vehicle checked out. While coolant levels in the reservoir can change due to a variety of factors, a fully cooled engine should nearly always show some coolant in the reservoir.
Transmission Fluid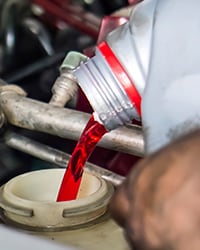 This is the only fluid that should be checked when warm while your engine is running. Transmission fluid typically doesn't need to be changed often, but brown or dirty looking fluid can be an indicator that you should have it checked out. If your vehicle doesn't have a second dipstick for transmission fluid, you have a sealed transmission that should be examined every 100,000 miles.
Hours
Monday

7:30am - 6:00pm

Tuesday

7:30am - 6:00pm

Wednesday

7:30am - 6:00pm

Thursday

7:30am - 6:00pm

Friday

7:30am - 6:00pm

Saturday

7:30am - 5:00pm

Sunday

Closed